Kindergarten Readiness Collective Action Network
July 2018 Work Group Meetings
We are grateful for our network's participation and valuable input as we move toward our summer 2018 goal of launching improvement projects that we can scale to create systemic change in our community.

Work Group #1: Early Screening Matters Escambia! July 10, 8-10 a.m. at Early Learning Coalition
Work Group #2: Early Childhood Matters - July 23, 3:30-5 p.m. at Early Learning Coalition
2018 Network Learning Series

The Kindergarten Readiness Collective Action Network meets bimonthly on the second Tuesday of every month from 2-4 p.m.. Our next meeting is Tuesday, September 11, at the Early Learning Coalition of Escambia County, 3300 North Pace Boulevard, Pensacola.

Here are links to our 2018 network learning series thus far:

June 2018 Goal-Setting Presentation
Questions? Contact Kimberly Krupa, Director of Achieve Escambia, at director@achieveescambia.org.
---
To explore further resources, view or download presentations and meeting materials,

scroll down to click on the links below.
Kindergarten Readiness Collective Action Network Community Partners
Kindergarten CAN Chair: John Hosman, partner at FS Advisors
Capstone Adaptive Learning and Therapy Centers, Inc.
Early Learning Coalition of Escambia County
Mapping Moving Trains Network Learning Series, 2016-2017
2016
Launch Meeting and Achieve Escambia Overview
Deeper Dive and Metrics Discussion
2017
Early Learning Coalition of Escambia County
Community Program Action Committee, Inc.
Escambia County Healthy Start Coalition
Live Well Partnership
ECARE
Capstone Adpative Learning and Therapy Centers, Inc.
Promise Neighborhoods
Escambia County School District- Title One
Studer Community Institute
Nemours BrightStart!
The Arc Gateway, Inc.
Early Steps at Sacred Heart Children's Hospital
Infant Mental Health of Lakeview, IMH
Escambia Community Clinics, Inc.
Sacred Heart and Studer Family Children's Hospital
Review of indicators and other initivates
West Florida Public Libraries
Review of Core and Contributing Indicators
Indicator Task Forces- Launch
Families First Network
Children's Home Society
Continuous Improvement Overview
Indicator Task Force Presentations
---

In November 2016, Achieve Escambia launched their first CAN, the Kindergarten Readiness CAN (KR CAN) focused on improving outcomes in Kindergarten Readiness.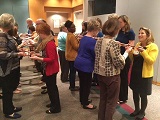 We began the process by "mapping moving trains," or identifying existing structures that relate to the early learning space- such as coalitions, networks, or groups- in order to create an inventory that allows us to identify bright spots and gaps within our community. We also engaged in trust-building exercises in order to strengthen the bonds between our team members.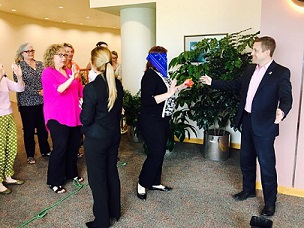 Our network continued to develop trust between providers and to learn about the available programs in our area in order to better understand the current conditions of our community, and how they relate to the core outcomes and indicators we wish to address.

After meeting monthly since November- and hearing presentations/learning about the existing resources in our community from nearly 20 different partner organizations and programs, our Kindergarten Readiness CAN voted on which two contributing indicators to prioritize! We have also launched two Indicator Task Force (ITF) groups to lead the work of developing and implementing action plans in two areas that the CAN determined were of highest priority.