VISION: Every generation achieves success, cradle to career.
MISSION: To align community resources so everyone is empowered to achieve success.
---
Download our 2018 Community Report
HERE

!

Our August 29, 2018 launch event was a huge success. Click

HERE

to check out the results of the live polling and community quiz.
Download our 2017 Baseline Report
HERE!

What is Achieve Escambia?

Achieve Escambia is our community's first cradle to career collective impact effort focused on the complex system of education and workforce development. We are an "all-in" partnership of Escambia County stakeholders from the education, non-profit, business, faith, community, civic, and philanthropic sectors committed to align our community resources so everyone is empowered to achieve success. Our partnership shares a vision and strategy for improving cradle to career outcomes through a structured, evidence-based, long-term approach. Using research-based outcomes, Achieve Escambia will track annual achievement for each of several critical cradle to career key transition points.


What is Collective Impact?

Collective impact occurs when organizations and entities from different sectors agree to solve a specific social problems using a common agenda, aligning their efforts, and using common measures of success. Collective impact is not a program; it is a cross-sector community-wide umbrella structure that mobilizes the entire cradle to career system and stakeholders toward the collective, united community vision and ultimately aligns programming toward common outcomes. Collective impact is much more rigorous and specific than collaboration among organizations. For the first time ever in our community, business, government, healthcare, faith-based, law enforcement, military and judicial sectors are all coming togther to hold themselves accountable to measuring and making improvements in a core set of outcomes. Working together toward this shared vision, we will all create a thriving community where everyone can achieve success, cradle to career.


How is This Different Than What We're Doing Now?

Our community has willing hands and big hearts. We have an abundance of organizations, partnerships and programs working to address the needs of our community, but the work is often occurring in isolation. Even with many strong programs, there are significant challenges- we're program rich and system poor. We're collaborating, but not working collectively. We're focusing our energy on convening around programs and initiatives instead of working together to move outcomes. We're using data to prove, instead of improve. We need business, education, government, neighborhoods, non-profit organizations, families and students to all join together for collective impact- every child, every step of the way, cradle to career.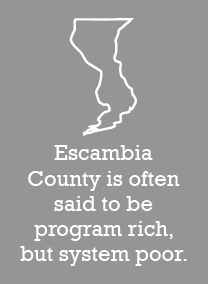 A Cradle to Career Approach

Achieve Escambia's roadmap identifies 12 core indicators to measure progress in four key outcome areas along this continuum. Each year, we plan to launch a Collective Action Network, or CAN, in one of the four outcome areas on this roadmap. In November 2016, our Kindergarten Readiness CAN was launched. In November 2017, our Career Readiness CAN launched. Please contact us if you wish to get involved with our future CANs!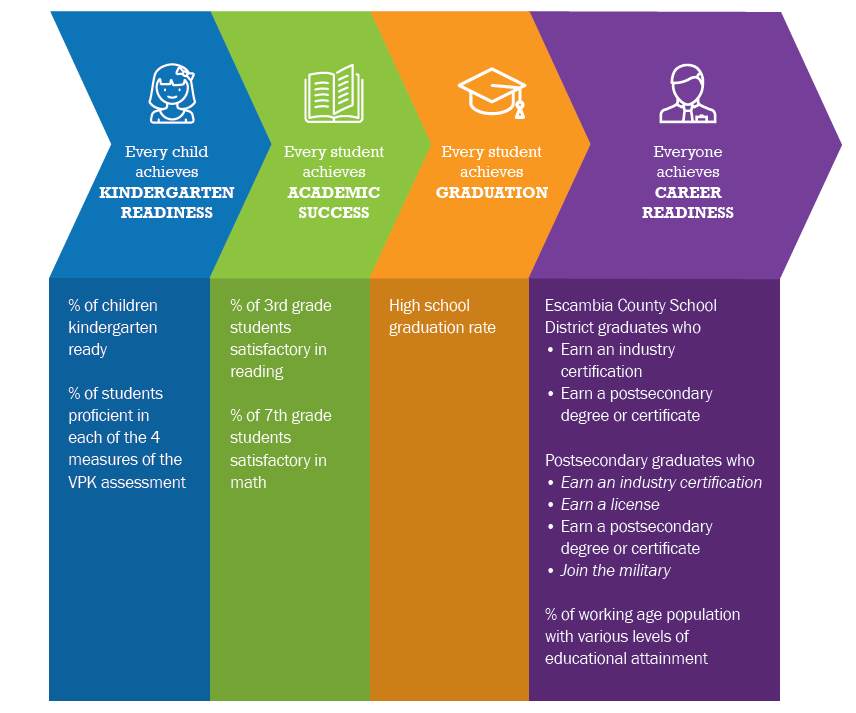 Contact Us
Contact us to be a part of the movement!